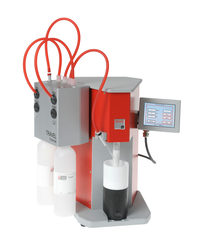 Applicable standards:


Product code: 
Streaming current detector for colloidal charge measurement in aqueous solutions
The Mütek PCD-05 Particle Charge Detector Smart measures colloidal dissolved substances in an aqueous sample by detecting the streaming potential and titration with a poly-electrolyte titrant or an acid/ base to the point of zero charge. It is widely applied in the paper industry, in chemical- and pigment applications as well as in water treatment or the food and beverage industry.
Detect anionic trash sources in the papermaking process
Monitor functionality of process chemicals and optimize dosage
Screen additives such as flocculants, coagulants, wet strength resins, dispersants or coatings
Characterize chemicals and pigments as for instance calcium carbonate and titanium dioxide
The Mütek PCD-05 Smart can be operated via smarthphone, tablet or labtop due to a integrated WLAN access point and a LAN connecting port.
Benefits
Accurate results also at high conductivity
No software installation required
Results on smartphone to share and discuss anytime and anywhere
Straight data management
Compact and light for comfortable travelling
Specifications
The Mütek PCD-05 Smart offers a modular concept and is available in two versions: Smart and Light S. The Light version comes with a small display but without a titrator. For more details, please register with MyBTG and download a PCD05 Smart product sheet.
Streaming current detector in modular set-up
WLAN interface
Full operation via smartphone, tablet or laptop
Basic operation via included Smartdisplay
Travel Titrator module
Open tube system to use alternative titrants directly from their bottles