Bendtsen Roughness Tester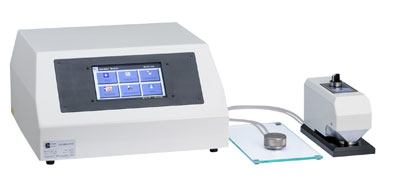 Standards:
BS 4420, DIN 53108, DIN 53120, ISO 5636/8791/2, SCAN P21
Applications:
Corrugated Testing, Paper and Tissue Testing
Industries:
Paper and Pulp
Product code: 40190
– Bendtsen Roughness Tester pdf
All-Around Roughness and Porosity
The Bendtsen Tester is able to measure both the roughness and porosity of paper and board. The instrument is easy to use. The 7-inch touchscreen uses intuitive icons
Test Results
The original test design of Dr. Bendtsen had problems keeping the air pressure at a constant level. The 58-27 Bendtsen tester measures the air pressure in the head. Therefore, a change in pressure is directly recorded and controlled.
Features
Measures both Roughness and Porosity
7-inch touchscreen
Internal Calibration Routine
Electronic measurement for constant air flow
Flexible roughness head
Sheffield options available
Touchscreen
The touchscreen uses big icons to guide you through the settings and tests. This makes navigation intuitive and less language dependent.
Roughness head
The roughness head (10cm²) is connected to the instrument with flexible hoses. The flexibility makes it easy to rapidly perform multiple tests.
Porosity head
The porosity head clamps the sample automatically ensuring a constant pressure. Roughness and porosity can be measured with one instrument.
Constant pressure
A constant air pressure at the measuring head is vital for a reliable result. The Bendtsen has a direct feedback, making it possible to adjust if needed.
Sheffield option
The Bendtsen tester can also be supplied with a Sheffield option. A special head is connected to the Bendtsen to meet the Sheffield specifications.
Refurbish roughness head
Replacing the measurement ring is very easy. This avoids replacing the complete, expensive, head when it wears over the years.
Specifications
Model: 58-27 Series
Measuring units: roughness ml/min, l/min | porosity ml/min, l/min | μm(pas.s)
Measuring range: 20 – 5000 ml/min
Test pressure range: 0.7 – 2.5 kPa
Accuracy flow: 0.5% of reading
Language: Several available,including Chinese
Installation Requirements
Electrical: 110V /230V /50/60 Hz
Air: 400-600 kPa
Dimensions: 460 x 430 x 230mm (LxWxH) | (18 x 17 x 9 inch)
Weight: 16 kg (36 lb.)
Output
Mini USB
Optional/Accessories
Graph Master