Digital Burst Tester for Board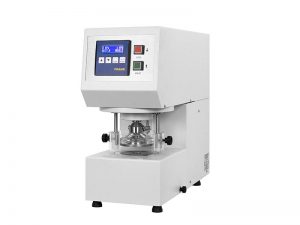 Applicable standards:
DIN EN ISO 2759:2014
DIN 53141
Appita AS 1301.438
FEFCO No. 4
SCAN P 25
TAPPI 807, T 810
etc.
Product code: 18535
Features
• Measuring range: 350-2000 kPa (S18530000)  resp. 200-10000 kPa (S185340001)
• Statistic functions
• Mechanic safety protection
• Display
• Pneumatic sample clamping
Documentation
Description
Digital burst tester, working according to Mullen: A plunger pushes glycerin against the membrane in order to bulge it. The distended membrane imposes pressure upon the sample (which is clamped over the membrane by means of a clamping bell). Pressure is increased until the sample bursts. The sample is clamped pneumatically. The device is equipped with safety protection. Results are displayed digitally. The maximum sample thickness is 12 mm.
Test description
The sample is placed between clamping bell and membrane. After pushing the start button, the sample holder lowers and clamps the sample. A piston pumps glycerin at a constant rate under the membrane. The sample is bulged until it bursts. The burst value is displayed. As soon as the sample bursts, the burst value is displayed. The plunger returns to its initial position, and the sample is released. The instrument is ready for further measurements. Besides single values, the menu shows statistic values (min, max, average, and standard deviation). The values can be processed by means of Probe Net or printed out.
Specifications
• Hydraulic system (glycerin)
• Motor driven
• Pneumatic sample clamping
– Contact pressure adjustable until 400 – 1500 kPa or 700 – 2300 kPa (S185340001)
– Test surface: 780 mm², Diameter (31.5 ± 0.05 mm)
• Burst pressure measuring range: 200-2000kPa (MTB 100) or 200-10000 kPa (S185340001)
• Digital display of burst value and statistic functions
• Accuracy: ± 1 % of displayed value
• Special membrane
• RS 232 interface for result transfer or printer connection
Technical Data
Electricity: 110-230 V, 50-60 Hz
Water supply: None
Compressed air: 400-600 kPa
Dimensions (WxDxH): 63x22x52 cm
Net weight: 55 kg
Gross weight: 75 kg