SCT Short Span Compression Tester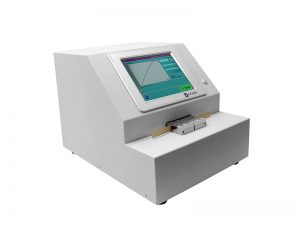 Applicable standards:
ISO 9895
TAPPI T 826
DIN 54518
SCAN P 46
APPITA/AS 1301.450
TAPPI T 826
BS 7325
Product code: 18510
Also available as PTA-Line model!
Features
• Display of graphs and values on a touchscreen
• Contact pressure of clamps: 2,300 N (adjustable)
• 500 N force sensor for measurements up to 33.33 kN/m
• Linear movement of clamps (concentric drive)
Documentation
Description
The compact device, which measures the compression strength, clearly represents the values and graphs on the touchscreen, which is very convenient to use. The statistic evaluation with its single values can be retrieved in a submenu. The warp resistant construction of the clamps and the special linear drive ensure exact measuring results. The clamps return quickly to their initial position (0.7 mm distance) after sample break.
Test description
The operator places the sample between the clamps. After pushing the start button, the clamps close and move towards each other until a break is detected. If no break is detected, the test is automatically interrupted. Thereafter, the clamps return to their initial position and release the sample. Values and graphs are displayed.
Specifications
• Touchscreen
• Display of single values and statistics:
– Compressive strength in kN/m
– Max. force (Fmax) in N
– Compression index (CI) in Nm/g
• Display of single and comparison graphs of MD and CD
• Compatible to MiniStat and PaperLIMS
• Built-in industrial PC
• RS 232 interface for result transmission
• Printer interface (parallel) for HP Laserjet compatible printer
• Measuring range: 1-500 N (corresponds to 0.06 kN/m)
• Sample width: 15 mm
• Clamping pressure: 2,300 ± N (adjustable)
• Measuring accuracy: < 1% of the displayed value
Technical data
Electricity: 110 – 220 V, 50 – 60 Hz
Water supply: None
Compressed air: 600 kPa
Dimensions (WxDxH): 27x50x27 cm
Net weight: 32 kg
Gross weight: 42 kg