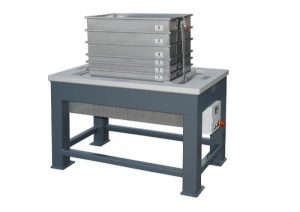 Applicable standards:
SCAN CM 40/88
TAPPI UM21
GOST (round version)
Product code: 40190
• Heavy and robust construction with motor and control panel built in
• Lightweight trays made of stainless-steel and aluminium
• Standard screens: 45 mm round hole, 8 mm slot, 13 mm round hole, 7mm round hole, 3 mm round hole, dust pan
Documentation

Description
The chip classifier has 5 standard screens and a fines pan. The inner measurements of the screens are 650 x 400 mm. The lightweight screens are made of stainless steel and aluminium for easy handling. The screens are mounted on the shaking table The control box with timer and "Start/Stop" buttons is mounted on the side.
Test description
The empty stainless-steel screens are weighed and fixed on the classifier. 8 to l0 litres of wood chips are put in the upper tray and the classifier is started. It stops automatically after the pre-set time of 10 minutes, and then the six fractions are weighed immediately to the nearest 0.1 g. No determination of the dry matter content is required. However, it is essential for the accuracy of the result that the material does not gain or lose moisture between the classification and the weighing. Therefore the fractions are weighed as quickly as possible on a balance placed close to classifier
Specifications
• Heavily built chassis with lightweight screens
• The following screens are included
– 45 mm round hole
– 8mm bar
– 13 mm round hole
– 7 mm round hole
– 3 mm round hole
– fines pan
SPECIAL VERSION: GOST
Round screens in accordance with the Russian GOST standard. This model is much smaller and a different shaker is used.
Technische Daten
Electricity: 230 V, 50 Hz
Water supply: None
Compressed air: None
Dimensions (WxDxH): 114x57x85 cm
Net weight: 250 kg
Gross weight: 300 kg