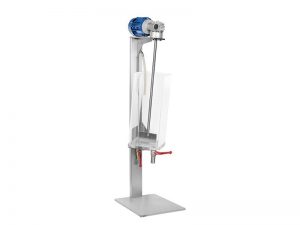 Applicable standards:
Zellcheming Merkblatt V/6/61
Product code: 95555
• Wall-mounting or with an optional stand for bench top operation
• Sturdy construction, made of stainless steel and Plexiglas®
• Tap and spout for easy filling and cleaning
• Quiet geared motor (3 dBA)
• Plexiglas® pot for 12L suspension
• Optionally for 24L suspension
• Construction according to standard
Documentation
Description
The digested beaten or unbeaten and then equalised pulp samples must be split up equally for the determination of freeness and the production of hand sheets. Therefore a certain amount of suspension has to be taken out in such a way as to make sure that it contains the necessary amount of fibre and that it totally corresponds to the original suspension in respect of distribution and concentration.
The sampling is done by draining a certain amount of suspension into a graduated beaker.
The following pre-conditions are achieved by this equaliser:
• At the moment of sampling the suspension has to be perfectly homogeneous.
• The mixing must not change the physical condition of the suspension.
• The cross-section of the ball valve must not be too small and it must be possible to open and close it with a rapid movement otherwise a fractionation is taking place when sampling.
A lower pulp concentration results in higher accuracy.
Test description
The equalizer acts as a turbulence generator, whereby the suspension receives sufficient force to disperse flocks and maintains a homogeneous suspension without changing the characteristics of the stock.
The disintegrated pulp sample is diluted to the required level. The rotational speed of 150 rpm of the stirrer maintains a homogeneous mixture. It ensures equal samples from the first to the last. The samples are taken out by opening the large ball valve.
Specifications
Stainless steel design:
• Wall-mounting or with an optional stand
• Low-noise motor
• Equalizer pot made of Plexiglas®
• Capacity: 12L or optionally 24L
• Stirrer and drain ball valve made of stainless steel materials
• Stainless steel construction engineered in accordance with Zellcheming
• Built-in ball valve for filling and cleaning
Special version "UPM Equalizer":
This equalizer model has a 40l container made of polypropylene. The motor and stirrer are designed for high consistency samples. E.g. every 30 min a small sample is taken from the flotation tanks. After 24 hours an average sample is taken to determine the ash content as a mean value of the production of 1 day.
The remaining pulp is drained and the equalizer is ready for the next sampling.
Technical Data:
Electricity: 400 V, 50 Hz
Water supply: Yes
Compressed air: None
Dimensions (WxDxH): 40x50x100 cm
Net weight: 31 kg
Gross weight: 41 kg