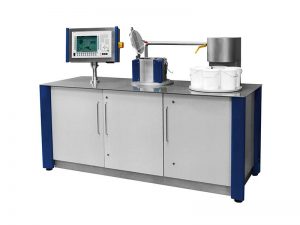 Applicable standards:
Laboratory Refiner LR 40
Product code: 21000
Features

• Completely automated laboratory refiner composed of pulper, mono pump, refiner and controlling unit
• Automated sample station with integrated balance and 6 sample positions
• Simple generating of grinding graphs and samples for further tests
• Measuring results directly applicable to the production process
• Disc or conical refiner headsets can be used
Documentation
Description
The laboratory refiner consists of a robust frame made of stainless steel, the sampling station with integrated scales, and the control panel. Inside the noise damping table there is a pulper, a progressive cavity pump, and the beating apparatus. Discs and cones can both be used as refiner headsets. The electronics' complex  is mounted in a separate cabinet to prevent exposure to water.
Test description
The pulp for beating is weighed on the integrated scales, and added to the pulper from the top. From there it is automatically diluted with water to reach the preset consistency, and the pulping process begins. Before the actual beating process the sample is pumped without load through the refiner back to the pulper, to be warmed to the required operating temperature. As soon as this temperature is stable, idling capacity is measured immediately before commencing the beating process, and the reference sample is taken. Further samples are automatically taken when the preset edge loads or beating energies are reached. On completion of the beating, the device rinses automatically, and is then available for further beating processes.
Specifications
• Automatic sample station with integrated balance
• Grinding set exchangeable (disc or conical refiner headsets)
• Presetting of up to 6 grinding points
• Easy generating of grinding graphs and samples
• Measuring result directly applicable to the production process
• Detached control cabinet
• Relatively quiet in operation
• CE certification
Technical data
Electricity: 380 – 400 V, 50 Hz
Water supply: Yes
Compressed air: 400-600 kPa