Drainage Freeness Retention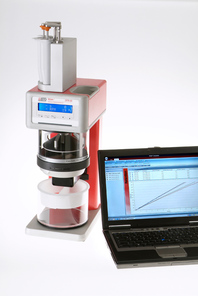 Applicable standards:


Product code: 
Lab simulation of drainage, freeness and retention processes onsite
The Mütek™ DFR-05 Drainage Freeness Retention simulates the  retention  and  drainage  conditions  prevailing  in  a  paper  machine immediately before  and  during  sheet  forming. Chemical addition is fully automatic via a dosing module. The optionally available RET-20 Lab Sensor directly measures the filtrate consistency, making a manual determination of stock and ash consistencies superfluous. The drainage behavior is characterized by gravimetry of the filtrate volume. 
Systematical assessment of chemical  influences in the papermaking process
Characterize and screen retention agents and drainage aids
Automatic consistency measurement
Detection of Schopper-Riegler and Canadian Standard Freeness (CSF)
Benefits
Develop and characterize retention agents and drainage aids the market demands
Understand chemical reactions in the lab and onsite
Apply the correct additive in a process environment
Optimize chemical dosages for better operation and cost saving
Accurate automated consistency results for fiber stock and pigments (ash) replacing time-consuming manual determination
Transportable for onsite use
SYSTEM REQUIREMENTS
The Mütek™ DFR-05 is designed for use with a PC and application software. The RET-20 Lab sensor is optional. The instrument is intended for indoor use at temperatures in the range of 15 °C to 40 °C (59 °F – 104 °F). It is rated for voltages of 100 – 240 VAC at 50 Hz / 60 Hz.
The DFR is also available as a special freeness version, the Mütek DFR-05 Freeness.
SAMPLE SPECIFICATION
Retention and drainage Stock samples in the consistency range of 0.2 % to 2 %. A sample volume of  1  liter  is  required  per  measurement.  Since  the sample  temperature  strongly  impacts  the  test  results,  the  temperature should  be  kept  constant.
Freeness Freeness measurement is performed in line with DIN EN ISO 5267-1 2000 which specifies that the sample is to be diluted to 0.2 % consistency using  distilled  water.  Temperature should be adjusted to 20 °C. A sample volume of  1  liter  is  required  per measurement.