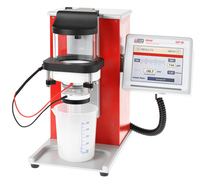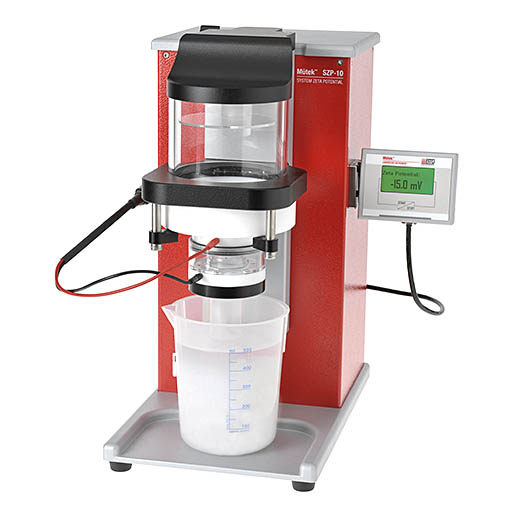 Surface charge detection of solid matter, fibers and particles.
The MütekTM SZP-10 System Zeta Potential measures the surface charge of solid materials suspended in water. The resulting zeta potential is based on a streaming potential measurement after an automatic plug formation of the sample material. The device is widely used in the paper industry and in pigment applications as well as for coating evaluations.
Assessment of wet strength agent, sizing agent, dispersant or coating
Monitor functionality of additives in a process and optimize dosage
Control quality of filter aids, efficiency of separation technologies and finishing processes
Benefits
Develop and characterize functional additives and pigments the market demands
Understand charge related reactions in the lab and onsite
Examine pH-influence on surface charge of functional additives
Apply the correct additive in a process environment
Optimize chemical dosages for better operation and cost saving
Combination with a Mütek PCD-04 reveals a 360° view by dissolved charge and surface charge
Transportable for onsite use
 
The SZP-10 is a stand-alone unit. Data transfer to USB stick or directly into BTG Software is possible via a USB interface.
SYSTEM REQUIREMENTS
The instrument is designed for indoor use at an ambient temperature of 10 °C to 40 °C (50 °F – 104 °F). It must be placed on a flat and stable surface at least 20 cm (8 inch) away from walls and should be protected against water.  It must not be used in explosion prone rooms. It is rated for voltages of 100 – 240 VAC at 50 Hz / 60 Hz.
SAMPLE SPECIFICATION
Generally a streaming potential can be measured for particles larger than the openings (308 μm or 40 μm) of the screen electrode used. To measure samples containing particles smaller than 40 μm, a suitable paper filter has to be inserted. 
FIBER MATERIALS Samples with 3 % solids content or diluted. Conductivity should be between 100 µS/cm and 7 mS/cm. 
SOLID PARTICLE SUSPENSIONS Suspensions of 1% up to approx.50% depending on hydrophilic/ hydrophobic characteristics of the sample material.
PIGMENTS Pigment slurries of up to 60% (60 g solids and 40 g distilled water) can be measured with the special electrodes for pigments.
TEXTILES, FILTER PLATES, FIBER MATS Cut the material in small pieces and generate an e.g. 1% suspension. Alternatively,  a  piece  of  sample  material  can  be  punched  out  and clamped into the measuring cell.