Sheet Former, Semi-Automatic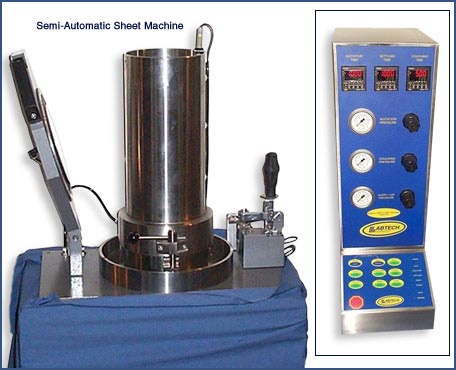 Applicable standards:
Pulp and Sheet Making Testing
Meets TAPPI T-205, ISO 5269/M, AS/NZ 1301-2035, CPPA C4 and SCAN C26
The Semi-automatic Sheet Formers create standardized laboratory hand-sheets that allow the physical properties of the pulp to be evaluated. Semi-automatic operation eliminates operator influence, ensures high repeatability, and increases sheet output compared to standard sheet machines.
Stainless steel construction
Two step operation: 1- Auto fill, stir, settle and drain 2- Auto couching
Convenient, user friendly control panel
Pneumatic couching
All timing and pressure settings are user programmable
Full PLC control of the test sequence
Adjustable level sensor
Color coded pneumatic runs for easy installation and troubleshooting
White Water Return System available (option)
No longer having to manipulate the heavy Couch Roll and cumbersome Stirrer is greatly appreciated by those producing a large number of hand-sheets, reducing operator fatigue. Semi-Automatic Sheet Formers are available in two models: Model 300-0 (Self-Contained version) and Model 300-1 (Bench version). The 300-1 (Bench version) Semi-Automatic Former requires fitting to a counter.